Pipette using CNT-actuator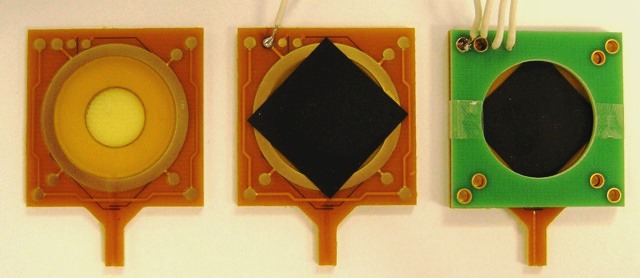 Automated dosing of small amounts of liquids involves normally quite large pipettes and motors for pipette actuation. Miniaturized pipettes can enable new areas, in which micro dosing is demanded.
<Approach>
Our approach is a direct integration of a bending CNT actuator into a PCB design, which enables a frictionless induction of movement onto a liquid. The driving electronics control the actuator with a low voltage and can be placed on the same PCB. The geometry of the pipette channel, the cavity as well as the membrane opening are generated by milling and laser cutting of standard PCB layers (stiff FR4 and flexible polyimide layers). The CNT actuator is glued on top of this layer stack. Gold electrodes ensure low contact resistance.
<Features>
Nominal fluid and actuation volume: 10 μl (up to 20 μl - single droplet)

Channel length: 10 mm

Channel width/height: 1 mm

PCB integration with contact gold electrodes and electrodes inside the pipette channel to detect the fluid level resistively
<Technical Data>
Driving voltage: 2 V

Capacity: 0.23 F

Peak current: 0.21 A

Charging time (10 % to 90 %): 4.1 s